DAY 1: HCMC - YANGON (2 meals)
You are at Tan Son Nhat Airport - international terminal at 07:00, the delegation to welcome you to exit procedures to Mynamar by flight VN943 09: 35/11: 11 to Yangon.
Lunch: Arrive Yangon, car and local guide to pick up for lunch. And check in hotel.
13: 30 You are interested: Shwedagon Pagoda - one of the impressive Buddhist temples with visitors all over the world - is the heart of Myanmar.
Evening: Dinner dinner. Free to visit Yangon at night.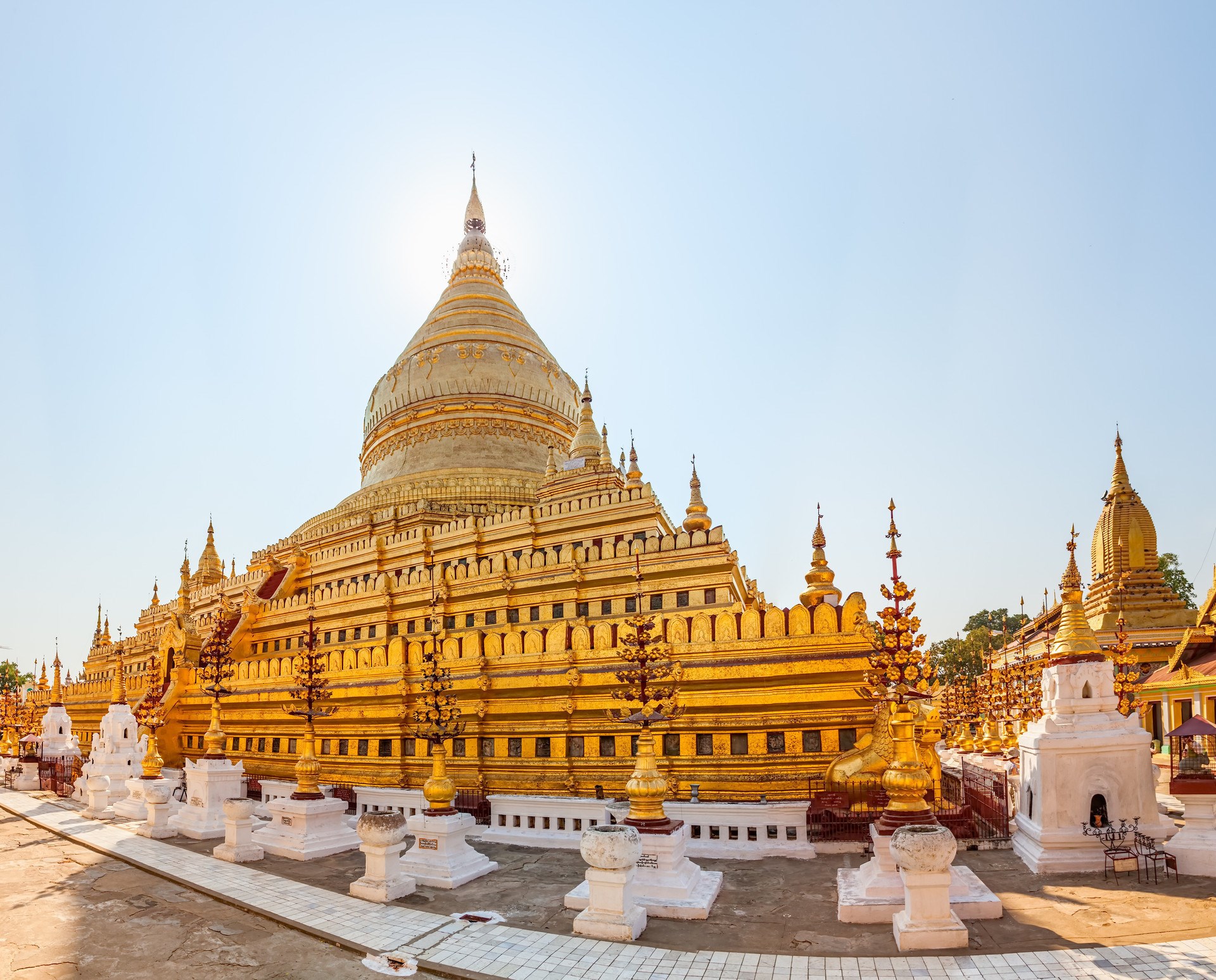 DAY 2: YANGON - KYAIKHTIYO (Eat three meals)
Morning: You use the bright spot at the hotel. Depart for Kyaithtiyo - "Golden Pagoda Temple", one of the most ancient and famous temple in Myanmar.
Lunch: Lunch at restaurant with local specialties.
Afternoon Depart to the top of the sacred gold, 1100m above sea level. Go to Kin Pun - take the special car to the top (11km), then continue to walk or sit (cost self-sufficiency) to Golden Rock Temple - watching beautiful sunset from the top of the mountain.
Evening: Down the mountain for dinner. Check hotel room to rest.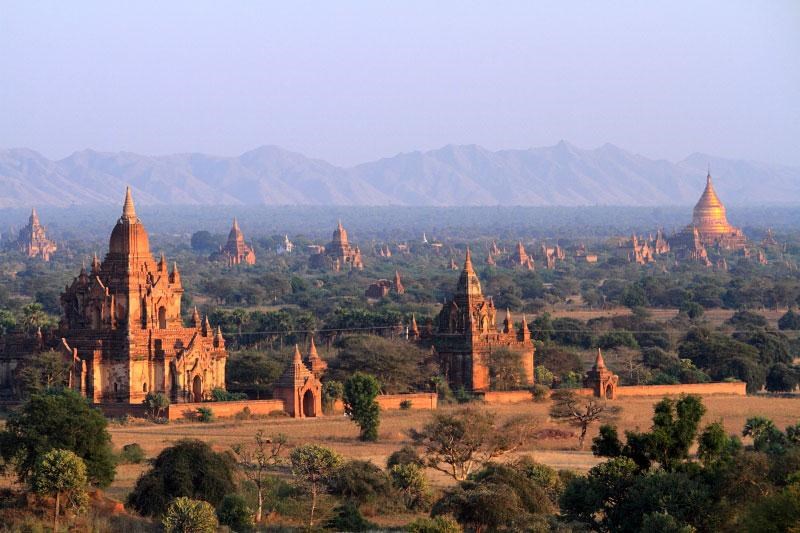 DAY 3: KYAIKHTIYO - BAGO - YANGON (03 meals)
Morning: Watch the brilliant sunrise from the top of the mountain. Have breakfast at the hotel. Depart for Bago - Visit:
Kyat Khet Monastery - where you can meet thousands of monks in a primitive Buddhist atmosphere.

Bago Market - one of the typical markets of Burma.
Lunch: Lunch at local restaurant with Chinese dishes. Continue to visit:
Depart for Yangon, visit the Statue and Buddha statue with jade stone.
Evening: Have dinner. Check the hotel to rest.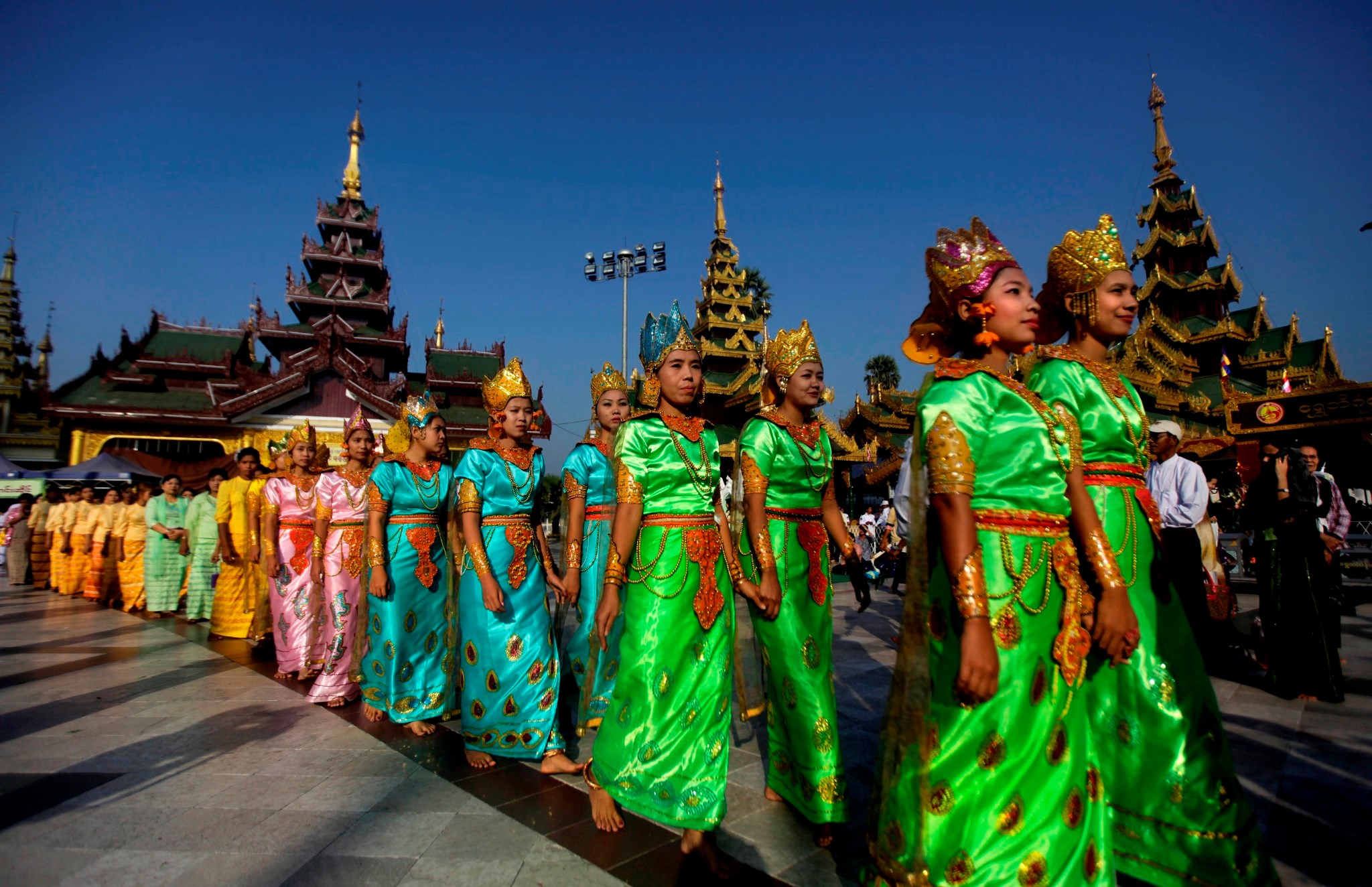 DAY 4 : YANGON - HCMC (Breakfast)
Morning: Breakfast, free to visit and shopping at the Bogyoke gem market until appointment.
Afternoon: Delegate to have lunch. Depart for Yangon International Airport, flight VN 942 (12: 10/15: 00) back to Ho Chi Minh City. Finish the program.
HAPPY TO VISIT YOU VISIT PLEASE
Unit of calculation: Vietnam Dong (VND)
TOUR PRICE APPLIES TO MUNICIPES FROM 15 BULK UP

PACKAGE PRICE 01

CUSTOMERS

Standard 3 stars

9. 78 0.000

CHILDREN'S CHILDREN'S PRICE:
Infants under 2 years old: 30% of tour price (use bed with adult)

Children between 2 and under 11 years old: 75% of tour price (No separate bed)

Children from 2 years to under 11 years old: 100% of tour price (with private bed mode)

Children up to 11 years old: 100% of tour price
RATES INCLUDE:
Round-trip airfare to Ho Chi Minh City / Yangon / Ho Chi Minh City by Vietnam Air or Vietjet Air

Airport tax, security & fuel surcharge

Visiting and dining on the program

Hotel standard 3 * (room 2, room 3 will be arranged as needed)

Tour cars, air-conditioned sightseeing shuttle

Local tour guide & local tour guide throughout the route

Travel insurance compensation up to 21000.000 VND / case
PRICES DO NOT INCLUDE:
Passport (valid for at least 6 months from the date of arrival in Vietnam)

Overweight luggage, camera fees, camcorders, laptops ...

Personal expenses: telephone, laundry, extra costs incurred outside the program.

Single room cost (if required).

Compensation for local guides and drivers: 69.000 VND / person / day x 4 days = 276,000 VND / person / tour

Visa re-entry for foreign citizens: 495,000 VND / person
Single room supplement: 400,000 VND / person
CANCELLATION CHARGES (excluding Saturdays and Sundays) :
Cancellation within 15 - 20 days before departure, 50% of tour price + visa (if any).

Cancellation within 10 - 14 days before departure date, cancellation fee is 70% of tour package + visa (if any).

Cancellation within 06 - 09 days before departure, cancellation fee is 80% of tour package + visa (if any).

After the time on the tour cancellation fee is 100% tour package + visa (if any).

After you have obtained the visa (if any) by the travel company, cancellation of tour will take all deposit money. Travel company will notify the Consulate / Embassy of the visa cancellation system. The travel company is not responsible for your arrival.

Tourists switch to another day and 20 days notice when the tour will be free of charge, if later will be based on the above and only the departure date of departure.

After canceling the tour, visitors are kindly requested to pick up the money within 1 month from the date of booking. We pay only during the 30 days mentioned above.

In case of cancellation of tour due to objective incidents such as natural disasters, epidemics or by ships, trains, airplanes, the travel company will not be liable for any additional expenses other than Reimbursement for the unused services of the tour.
FOREIGNERS OR VIETNAMESE:
Visa re-entry into Vietnam for foreigners or overseas Vietnamese visitors 320,000 vnd / visitor . Visa received at the border and valuable in Vietnam once - for 3 months for overseas Vietnamese
DELIVERED TO BUY THE ORIGINAL TRAVEL AND 2 PHOTOS 4X6.
BRING UNDER CUSTOMS CLEARANCE AND VISA.
For more information please contact :
AUSTRALIA TRAVEL SERVICE TRADE JOINT STOCK COMPANY - BUY TRAVEL
Business Registration Number: 0309930787 - International Travel Permit: 79-260 / 2015 / TCDL - GPLHQT
Address: 79Bis Dien Bien Phu Street, Dakao Ward, District 1, Ho Chi Minh City. HCM
Phone: (08) 68 759 986 - 68 729 449
*** In charge of tour advice and visa market services US Australia Europe:
Hotline: 0937 797928/ 0922 959936